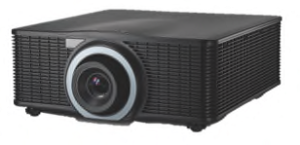 Ricoh Americas Corporation introduces the Ricoh PJ WXL6280 and WUL6280 projector. This product expands Ricoh's HD product offering to an environmentally friendly laser light source in the high end projector segment.
The Ricoh PJ 6280 Series comes in two different configurations, WXGA (1280 X 800 dpi) and the WUXGA (1920 X 1200 dpi) DLP projector with 6,000 lumen brightness and a maximum of 100,000:1 contrast ratio in Extreme Black Mode. These new models are designed to be mounted but can be placed on a table for easy horizontal and vertical motorized lens shift. With a projected engine life of 20,000 hours standard, the new models are a key addition in Ricoh's expanding projector product line. The PJ 6280 Series will allow you to satisfy your more sophisticated and larger audio/visual communications needs.
WHAT'S NEW and DIFFERENT:
*   Laser light source
*   DLP Technology
*   Higher resolution WUXGA (1920 X 1200)
*   Bright output – 6,000 lumen
*   High contrast ratio up to 100,000:1 Extreme Black Mode
*   Motorized Horizontal and Vertical lens shift
*   Motorized Horizontal and vertical Keystone
*   HDBaseT Support
*   2 HDMIT ports : MHL support
*   3D support
The PJ 6280 Series targets medium sized conference rooms and galleries. The laser light source gives the ability to avoid interruptions due to the projector life of 20,000 hours.